--------------------------------------------------------------------------
In a break from normal proceedings, this weeks KotW was written by a member of The Darts forum.com after members were given the chance to write this weeks one.
--------------------------------------------------------------------------
The Knob Of The Week usually only goes to an individual, rather than an organisation. So Martin Atkins is this weeks winner. However it was a joint effort from Martin, the BDO and the BBC that combined to result in farcical scenes on Wednesday night at the Lakeside.
In his second round match against Rick Hofstra, Martin soon discovered that the arm injury that he had managed to control in his first round win was winning the battle this time. He lost the first two sets averaging low 60's and was given a few minutes off stage to try and sort himself out. Had he retired then, nobody would have talked about it ever again. At least he tried, just like Denis Ovens did at the Ally Pally after one set.
But no. BBC cameras followed him backstage where the BDO Board member responsible for First Aid (Sue Williams)was nowhere to be seen. Instead we were confronted with the sight of Trina Gulliver lubing up in preparation to give Martin a soothing massage, before he called it a day after 6 practice darts (all televised). He then proceeded to snatch the mic from Rob Walker and sounded worst for wear, nervous as a newt if you will, before saying "bye" and walking off.
The BBC have since wiped all trace of the recording. It hasn't appeared on the iPlayer despite every single other session appearing, and there has been no mention of proceedings ever since by the presenters.
Since then, Martin has released a statement suggesting an x-ray has shown torn tendons. Must be a special x-ray machine Martin, don't you mean a MRI scan? Hmm... So Martin, in a week where there were so many contenders, you are the Knob Of the Week!!
Honourable mentions go to: - Garry "Glory Glory" Thompson, hitting a 72 average in an embarrassing showing - Tony Green, again excelling himself in ridiculousness in his commentary, far too many gaffes to mention and his partisan commentary of Fitton and Adams matches was nauseating - Tony "Top Lad" O'Shea losing nine straight legs against Adams and bowing out with ten missed shots at doubles and a 74.97 average against Adams - Julie Gore, winning a match with an average in the 50's against Rachna "Rug Muncher" David before then hitting a similar average again in her next round match, the worst ladies performance ever seen at Lakeside as far as I remember.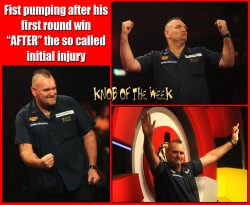 Atkins showing no signs of injury after his first round win.